---
Indiana Havanese Puppies
Carmel, Indiana
We are a family breeder of Havanese dogs and live in Carmel, IN. These are our pets, raised in our home with love and care. We breed for small size, and mostly white Havanese dogs. These puppies will be quite small as adults, probably from 6 to 10 pounds.

-----------------------------------------------------------
I am leaving for the five hour trip to breed Bella on Feb. 15, 2018. It can take up to a week to hit her proper fertility time, and then 3-4 days after that to have a couple of retakes to make sure it "took." We stay in a motel while we daily visit the future daddy dog. We should know a month after breeding if she is pregnant (end of March). If so, we can expect puppies a month after that. So we could have puppies at the end of April. And 8 to 9 weeks after that (end of June) they would be ready go to their new homes.
If you have read the info on the Adoption page of this website, and are then interested in a future puppy, you can message nancyd@me.com to be put on the puppy notification list. That will insure that you are e-mailed with all the latest news about our Havanese puppies. And watch this webpage for updates.
The following is "old" news:
Lily's puppies were born Aug. 5, 2015. She had two healthy puppies, both girls. They are both already adopted.
It's been a year since her last litter, and Lily is having puppies! We again skipped a heat (there are two/year) on purpose to make sure she is strong and ready. On June 7th I took her to Ohio again for breeding. We stayed in a hotel for five days together while taking day trips to visit the daddy, an AKC Champion white havanese dog that was also the father to Lily's first two litters. We had very good success.

Lily was just ultrasounded July 22, and she will have two puppies on or within 2 days of August 6th, 2015.

They will be ready to leave for their new homes at the beginning or middle of October.
Since time is so short, if you are interested in a puppy to be born August 5th or 6th (we think), please call if you want more into: (317) 844-7135.
Info from Previous litters below:
It's been a year and a half since Lily had her first litter and, she recently agreed to have another! She was again bred with a Havanese AKC Champion. This most current litter has been sold. Lily had her puppies on July 23rd, 2014, very late at night. There were only two puppies this time due to her small size--a boy and a girl. They both had deposits placed on them within 15 minutes of the birth announcement e-mail, around 2:00 a.m. on the 24th. Eight or nine weeks after birth they will be ready to leave for their new homes.
| | |
| --- | --- |
| | |
| From Lily's second litter, Izzy (short for Isabella) above, with Claire from her wonderful new family. "Izzy goes with us on many outings! She runs to the back door and gets excited to go! She has been so well behaved since day one with her! She truly has a great temperament! " | The other puppy from Lily's second litter, the male Doogie Houser. His new "mom" says, "I know I have said this a million times, but he is so darn cute. He gives us tons of puppy kisses. We love him to pieces! Thank you for doing what you do and making this all possible!" |
| | |
| Lily with her two newborn puppies—a boy and a girl. | The newborn puppies like to snuggle together. |
| | |
| | |
| Our grandson, Andy, cuddling the 4-week-old male puppy. | At 4 weeks, the puppies like to play together. The male is above, the girl is rolling over. |
| | |
| | |
The three puppies below are from Lily and Joey's previous litter. The current litter should look similar at that age.
Teddy, Lola, and Molly at 6.5 weeks.
Lola, Molly, and Teddy at 6.5 weeks.
Teddy, Lola, and Molly at 6.5 weeks.
Our grandson Andy plays gently with the 7 week-old puppies for socialization.
Teddy, Molly and Lola at 5 weeks

Molly, Teddy, and Lola at 3.5 weeks. Adorable!

Lily and her 3 puppies from a previous letter, who are 5 days old in this photo. She is the BEST mom. She only weighs 5 1/2 to 6 pounds, so the puppies should be quite small for Havanese (who normally range from 8 to 15 pounds). Their eyes are not open yet, so they stagger/crawl around, always looking for Mom, and she's always there for them.

Lily, shown above, has had a litter of three white puppies on Dec. 9th, 2012. Those puppies were ready for early spring adoption around February4th, 2013.

Lily weighs 6 pounds (before pregnancy) and is white/cream with small touches of honey color, and she was bred with AKC Havanese Joey, who lives in Cleveland and is all white. He only weighs 9 pounds (average is 8-15 for Havanese). We expect these puppies to also be on the small side when grown.

Merry Christmas! The puppies are two weeks old.

We name the puppies for convenience. They can be renamed by their new owners, if they choose to. Right now they are Lola, Molly, and Teddy. Their eyes opened a day ago, but full vision will be in two more weeks. Their noses and lips are just starting to turn black, as they should. Anyone who enters the puppy room must remove their shoes and wash their hands. The puppies can't have any vaccines yet, so they must be carefully protected. Even their mother is only allowed to go outside in our backyard, not the front where other dogs walk by.

Puppies 3 days old

The Three Musketeers - We Three Buds! Two days old.

Dec. 9, 2012--I'd like to announce the arrival of three healthy white Havanese puppies today from our sweet tiny dog, Lily, who only weighs 5 1/2 pounds. The puppies are, in order of birth, green, red, and gold ribbons, for boy, girl, girl. All are nursing well.
Weights were 4.5, 5.2, and 4.5 ounces.
All pups are vet checked and will have the first series of shots and be wormed several times before going to their new homes. There is a 1 year genetic health guarantee and a lifetime of support for when you need it. Your pup comes with a new beginnings Puppy Package full of information, toys, sample foods, treats, a blanket that has been slept on by her littermates and her mom, and other goodies to make the transition to a new home as stress free as possible. Our pups are treated as one of the family and raised around children and a cat.
HAVANESE ARE WONDERFUL COMPANION DOGS. THEY ARE LITTLE CLOWNS AND WILL BRING A SMILE TO YOUR FACE DAILY. Reserve your baby Havanese puppy for a lifetime of love.
Scroll all the way down to see the previous litter of puppies as of September 14, 2010, when they are 6 weeks old.

The new puppies will probably look like Lily (above) and her mother (below). She comes from championship Havanese stock, and was bred with an all white Havanese who is also rated as a high champion in AKC competitions.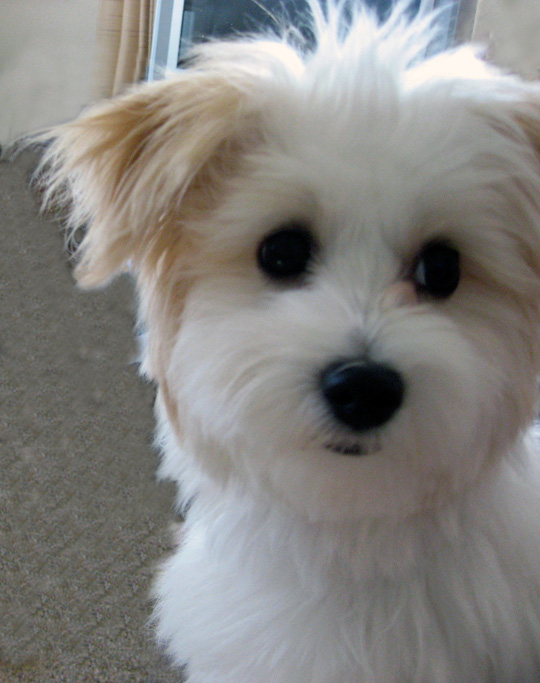 Above is the grandma, Lacey. The previous litter of puppies (including the mother, Lily, is below. Our dogs are our own pets, raised in our home and loved a lot every day.
Here are the previous puppies at 6 weeks, as of Sept. 14, 2010. Lily(the new mom) is on the right!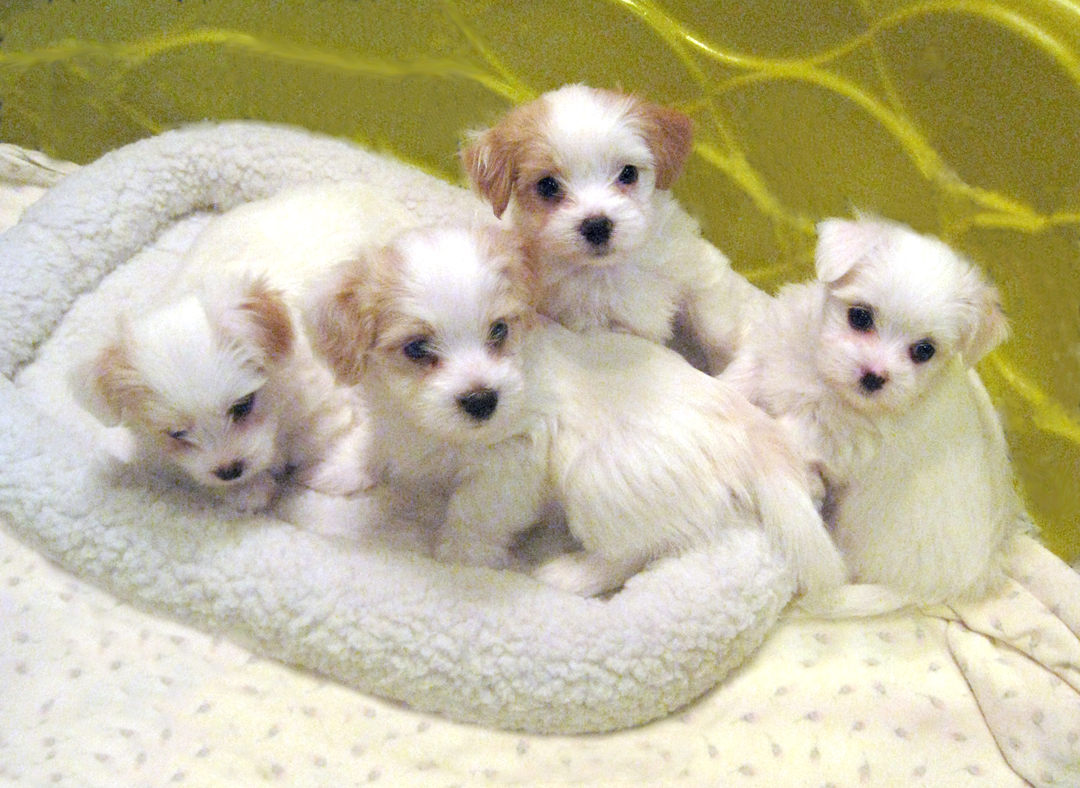 ---
Contact us for info
---

News Headlines:

The puppies are 4 weeks old.